The International Day of Older Persons
The 2016 theme for this day is Take a Stand against Ageism, so to mark the occasion I've invited some of my senior online friends to give me their perspective on Ageism. We will strive in this post to dispel the myth, often broadcast by the young, that "old people don't use technology or the internet".
We want those young people to know that, look here, we invented the internet! Yes, we know all about the dot prompt, system crashes and security, we're no strangers to the iPad and we've forgotten more passwords than they have ever thought up. We're experts on "if this then that". Some of us even write blogs and websites. So no, we don't believe it's our fault if the damned device is not working!
When I started this blog I had recently become a victim of ageism, having been sidelined when a young twenty something assistant was recruited to replace me. I was furious when I was made redundant years before my pension age. What can you do? I discovered that i was only one of many women my age in the same situation. I got over it, enjoyed the novelty of not actually having to go to work, and tried a few things I'd never had time to do before, such as taking a creative writing course, spending more time lounging at the pool, and making some local friends. Here's something I wrote about ageing at the time:
Ageism is a hot topic right now due to the baby boomers retiring en masse. But they didn't invent the term. Others before us have questioned society's attitude to growing old. It's not just pressure from the media to look younger, it's the knock-on effect of age discrimination in many other areas of our lives, as  "pre-boomer" Diane Dahli explains:
Ageism doesn't only affect us sixty plussers. It becomes a worry for many in their forties and fifties. My friend Tim Clark is a youngster compared to the rest of us. But
lately he's been thinking about getting older. He's taking it very seriously, and that's saying something, because if you have a bit of a read around his blog you'll see that he has a unique sense of humor. Here's Tim:
No matter how old I get, I will always try to follow my motto of  "get up and show up". One of the joys of getting older is that you can take your time in the bathroom. But Life is not always that easy, as Joyce Williams, a grandmother who is new to blogging, has been finding out:
Out of the bath now, and we've had a good laugh. But what if we're not ready to
retire just yet? What if we actually need a job? We'll have to come up with a smart outfit. And we'll have to remain tolerant, persistent and personable regardless of how bad we feel. Like Catherine Wynne:
I hear you Catherine! Been there, done that, worn out several T-shirts. And I hate temping almost as much as I hate agencies. I so admire Catherine's tenacity with the job-hunting, not to mention her ability to be consistent with her blogging throughout the whole ghastly experience.
Those of us who are, more or less, retired already can say good-bye to that uncomfortable corporate clothing. The downside is that many of us are broke. Penny Kocher has the solution to our wardrobe woes. She is here to help us fight the ageism that is rife in the world of fashion.
Let's rethink our image and hit the thrift stores with determination to find an affordable flamboyant outfit that will match our freshly dyed purple and pink
hair, our dynamic personality and our newly acquired freedom of expression. These novel and exciting choices are changing my outlook. I've developed an aversion to offices, and I'm leaning towards building a career of a more creative nature. Like writing a book. Or art . . .
I feel that Joyce could get an approach from the Tate Modern at any time. When I see some of the prices paid for their exhibits, it makes me think that she should rewrite her will, and if she really wants to clean up, perhaps she should consider investing in a complete gender reassignment.
Talking of the Tate takes me back to my home town of London, England – or more correctly, at least for the time being – London UK. I can almost hear Malcom Needs' cockney accent as he reminisces about the seventies. How did he manage to make me feel homesick for the first time in forty years? Was it the rhyming slang or the
smell of Brut that got to me? True to the Aussie's view of the English, dare I call him our "whingeing pom? He is not loving the ageing experience and he hasn't seen the half of it yet, but he is putting on a brave face and battling Ageism with the rest of us.
It's something of a comfort to know that it's not only we ladies who have a problem with our aging bodies. Isn't it ironic, now Brazilians are the thing, that we no longer need them? At least we make something of a saving there which we can use to offset the considerable cost of electrolysis on those pesky long hairs appearing on our faces. And where, I would like to know, did my beauty spots go?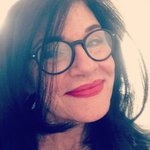 Now I know some of you are dying to find out whether Catherine ever actually got that job or not, so I will keep you in suspense no longer! We rejoin her at the Interview stage.
So the moral of our story today is "Nil Desperandum!" or "Never despair."
I think as a group, we've shown that each of us have overcome some
of the trials and tribulations of ageing with great courage and good humor. Let's continue to fight it. Let's stay positive! Yes, let's take those extra 7.5 years that a positive attitude to ageing will give us. My online friend Franci hits just the right optimistic note to round off this post.
My sincere thanks to all those who have contributed.
How are you coping with ageing? Have you experienced ageism recently? How did you respond?
Featured Image Photo Attribution: By Bill Branson (Photographer) [Public domain or Public domain], via Wikimedia Commons
8295ae99297bae543464434ce25b0ffc6afa39d2fa916de030